The Higashi-Roman Memorial Run

September 5, 2015 - 7:15am
Cerritos Regional Park
Donate to Cerritos Cross Country
Donations will go towards team supplies and assisting athletes who are in need of financial assistance. Individuals who donate will receive a letter acknowledging their donation to the team.
Thanks to all of our current sponsors!
We host this run to honor the memory of individuals of the program at Cerritos Cross Country as well as Cerritos High School, the city of Cerritos, and the running community. In 2007, we tragically lost two individuals in two separate accidents, Darren Higashi and Regina Nicole Roman, whom this memorial run is named after. The impact of their departures left a void in the lives of many and this annual open race is one way we keep their memory alive. In 2012, our program lost a former athlete, Rachelle Wong, who we will also honor this throughout this season. We hope you join us in celebrating the lives of these individuals as well as many others whom we lost along the way!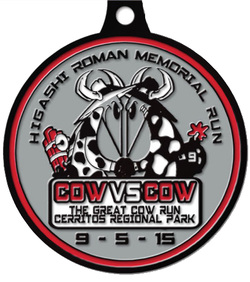 2014 Medal (Above) and 2014 T-shirt (Below) Design by Jason Watanabe, EsotericPSI (www.esotericpsi.com)